This year, MICOLLAC is bringing you a series of pre-conference workshops, which will be conducted online, two months running up to the conference in August.
The pre-conference workshops consist of five two-hour sessions offered in June and July 2023 ahead of the conference. Join colleagues and experts for an opportunity to discuss important and timely topics in-depth.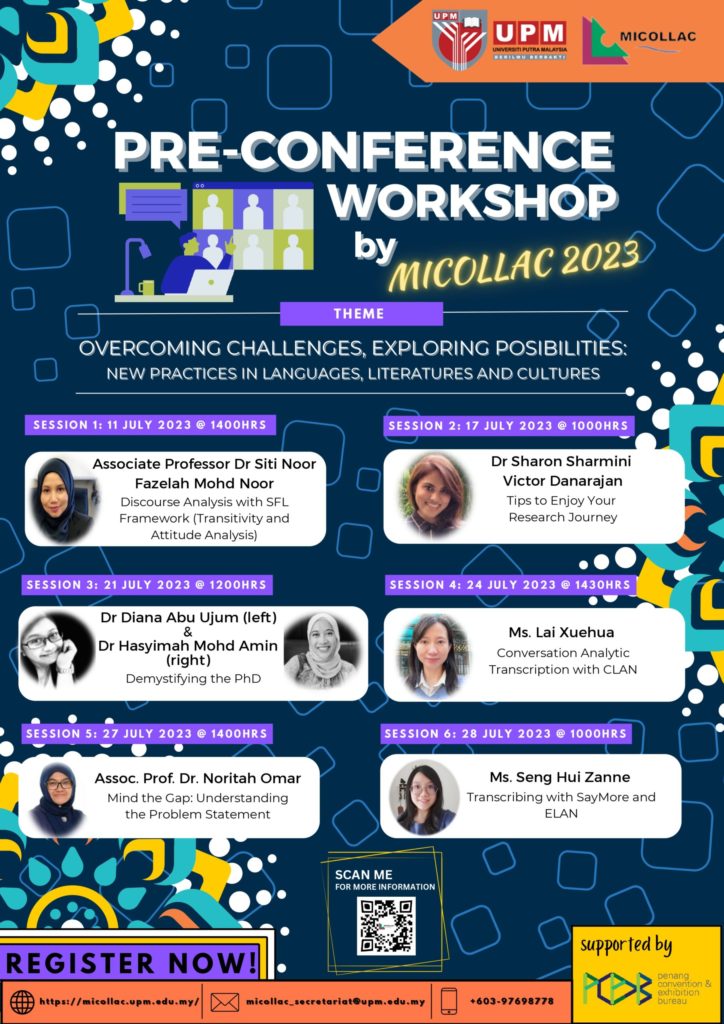 These Pre-conference workshops are designed to immerse you in specific topics through exploration of information, strategies, and techniques to help you in your journey as a new researcher. Registration for the series of workshops allows you to attend all the workshops offered. The workshops are conducted in an interactive style to ensure you would walk away with new insights, ideas, and approaches in research.
The workshops are prepared specially for postgraduate students or very early researchers attending MICOLLAC 2023; however, all MICOLLAC 2023 participants are welcome to attend.
A nominal fee is charged for attending this series of pre-conference workshops, to be paid as an add-on to the conference fee. Please register by May 30, 2023, to ensure that you do not miss any of the workshops. The payment for the pre-conference workshops can be made by clicking on the payment link provided here.
*Note that the pre-conference workshop fee paid is for the entire series of workshops.
All participants will receive a certificate stating their participation in the workshops.